Special Offer! Dubai Awaits Gambian Investors!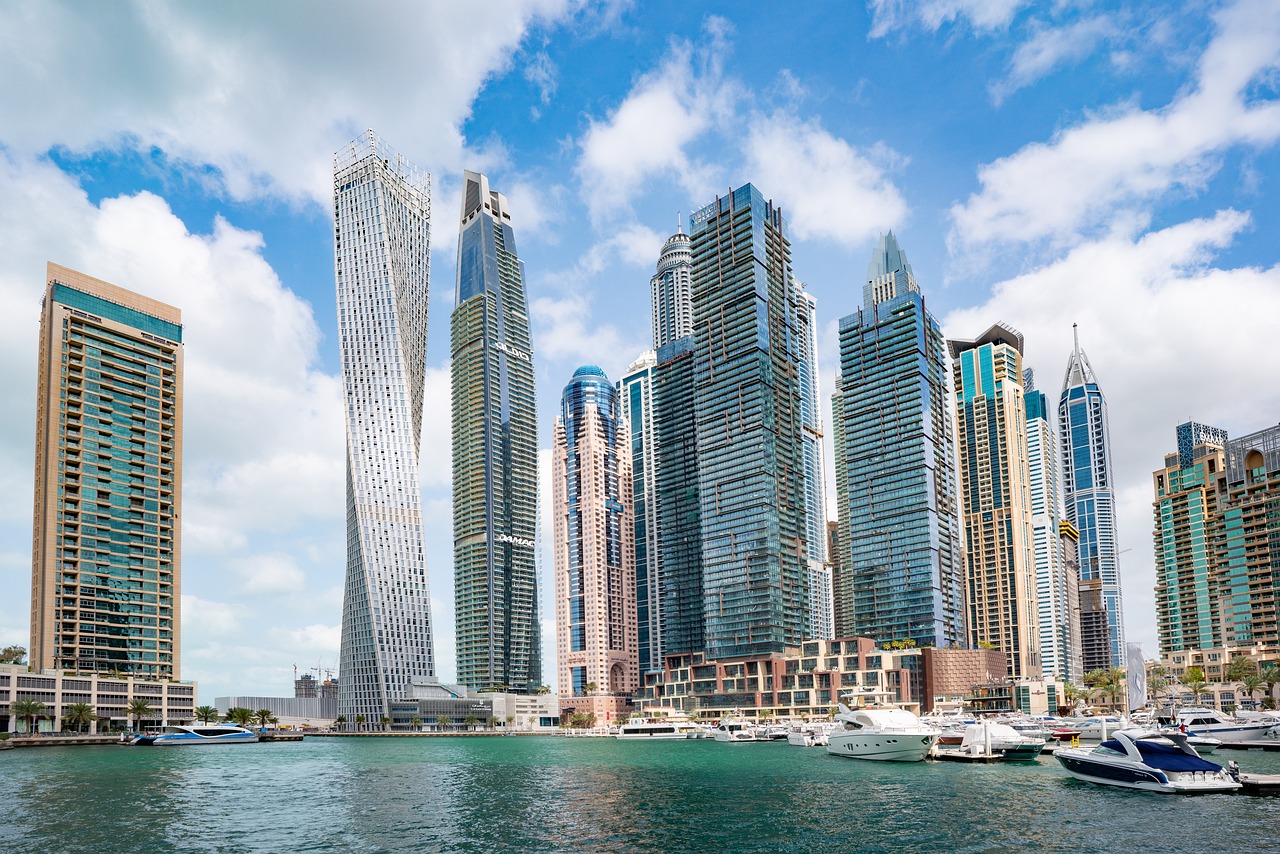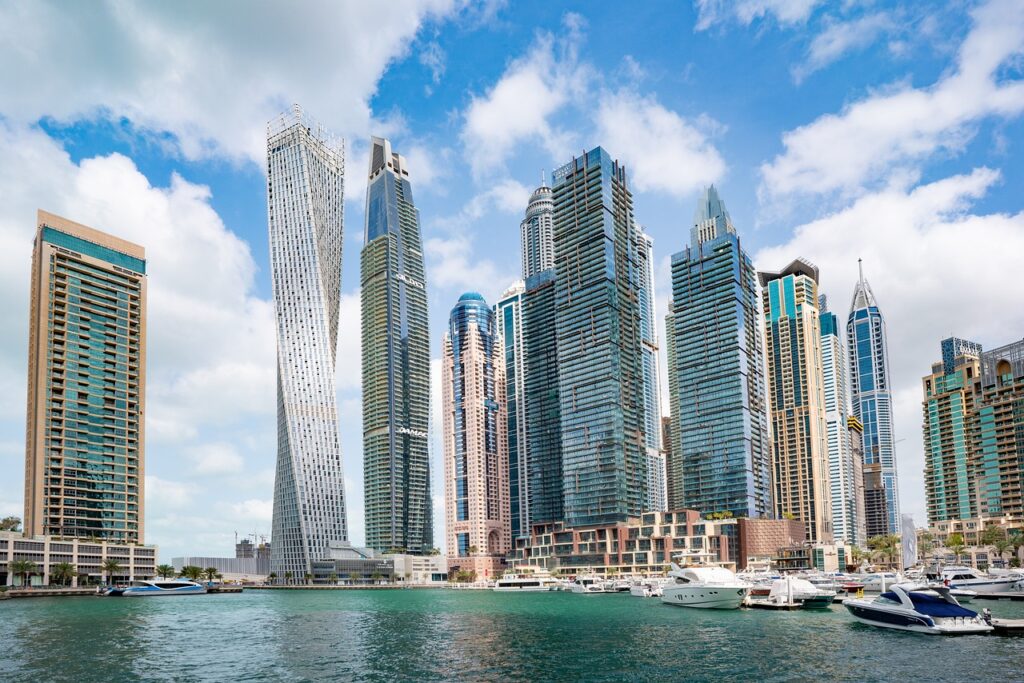 Dubai awaits Gambian Investors: Dubai, often referred to as the jewel of the Middle East, is not just a dazzling city of skylines but also a goldmine for investment opportunities. For those living in The Gambia with aspirations to expand their investment horizons, this is your cue!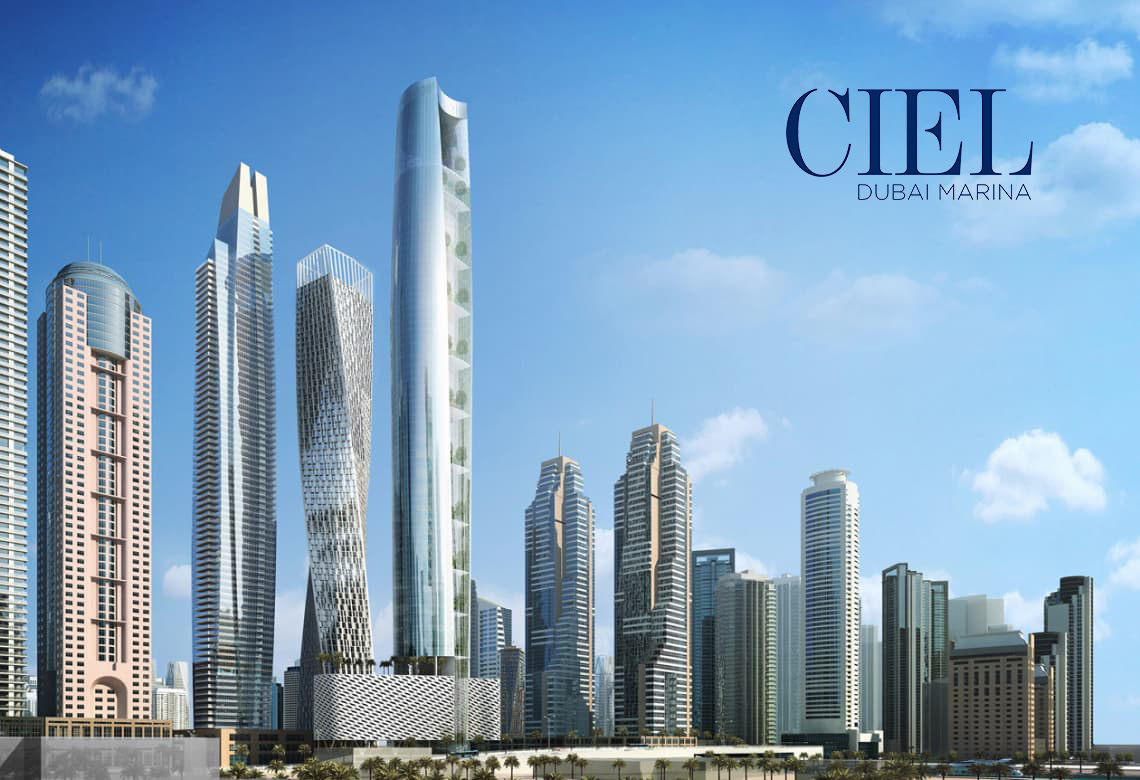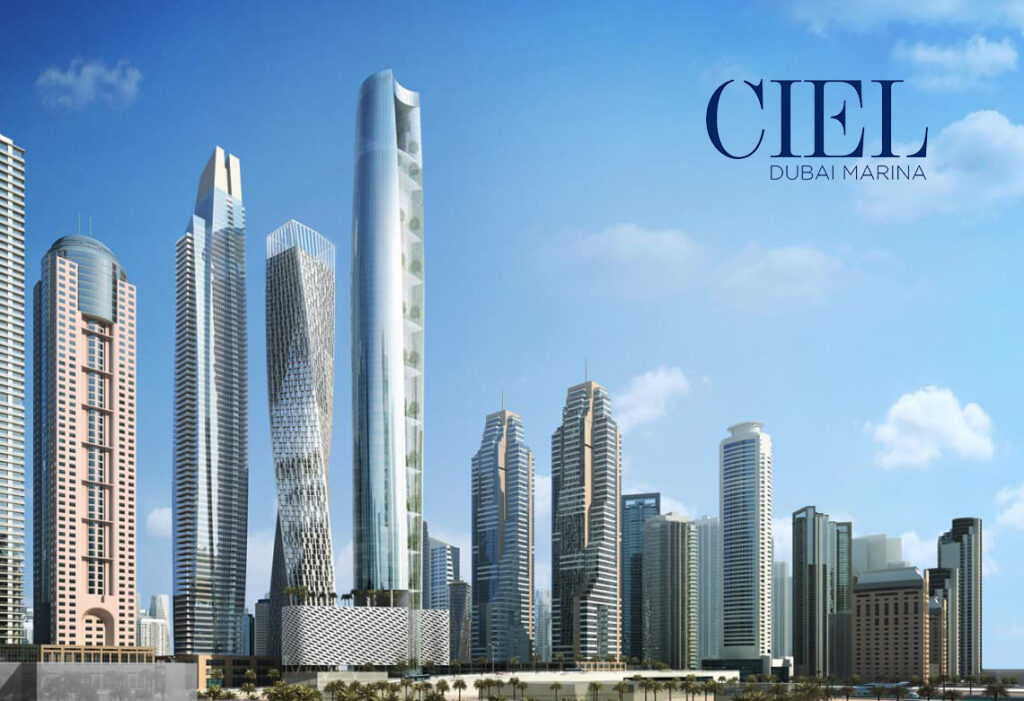 LOOKING FOR A HIGH ROI? CLICK HERE!
Experience the epitome of luxury and profitability with an investment in Ciel Tower – the crown jewel of Dubai Marina, soon to be the world's tallest hotel. This is more than just a property investment; it's an opportunity to own a slice of Dubai's iconic skyline.
1. Profitable Purchases: Invest in elegantly designed hotel rooms and suites, opening doors to a steady stream of revenue. With a promising high return on investment (ROI), your venture into Dubai's thriving hospitality sector is poised for success.
2. Hassle-free Management: Enjoy the benefits of full property management. Our seasoned team ensures smooth operations, from guest services to maintenance, letting you reap the rewards without the day-to-day hassles.
3. Iconic Ownership: Claim your place in one of Dubai's most iconic landmarks. The prestige of owning a piece of the Ciel Tower extends beyond its physical boundaries – it's a statement of luxury and a wise investment in a globally recognized address.
4. Dubai Marina's Gem: Situated in the heart of Dubai Marina, Ciel Tower is not just a property but a testament to architectural grandeur and a luxurious lifestyle. The vibrant surroundings offer an exciting blend of entertainment, shopping, and cultural experiences, adding value to your investment.
Embrace the height of sophistication and financial growth with Ciel Tower, where every investment skyrockets towards success.
SPECIAL OFFER – INVESTMENT VISIT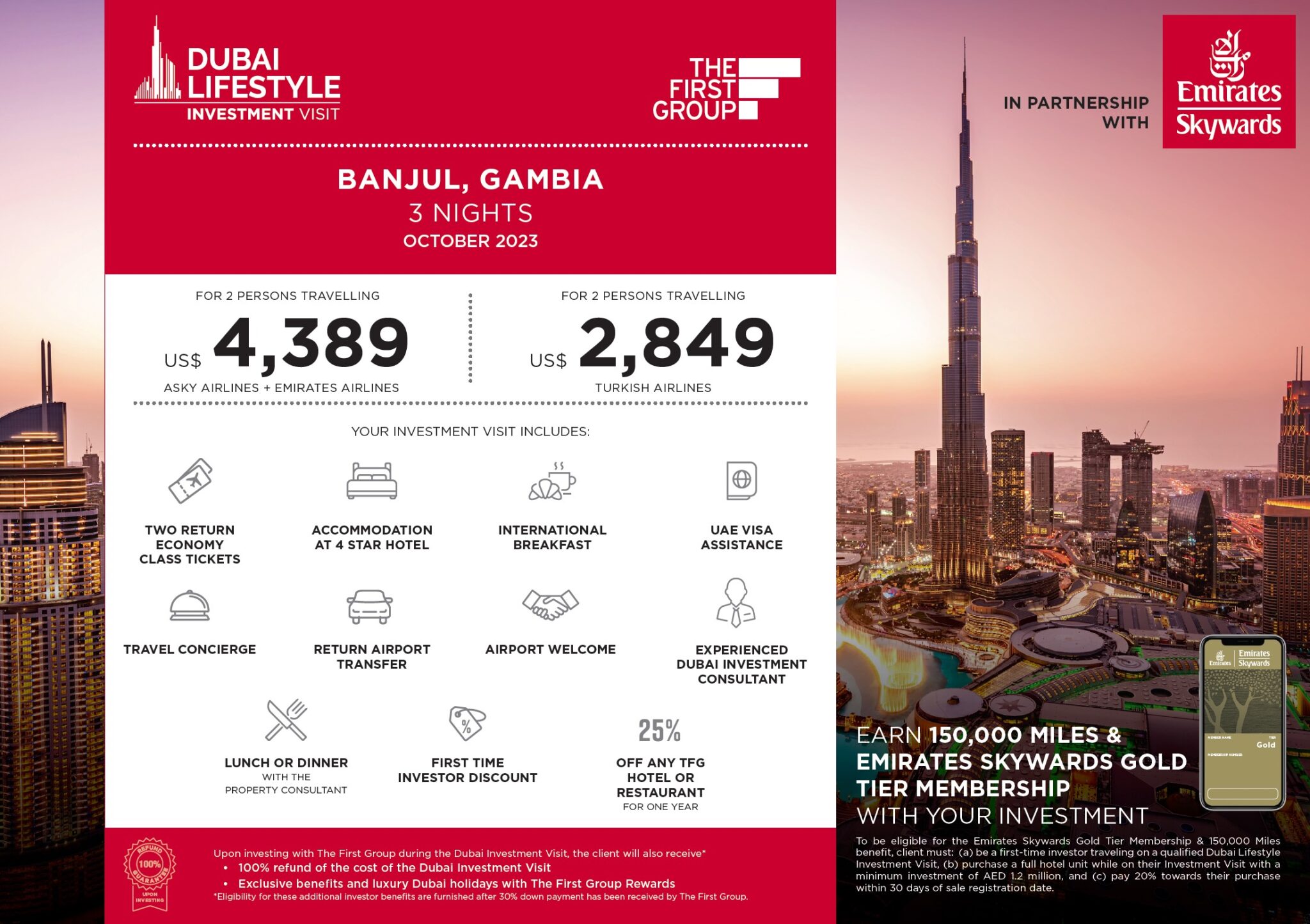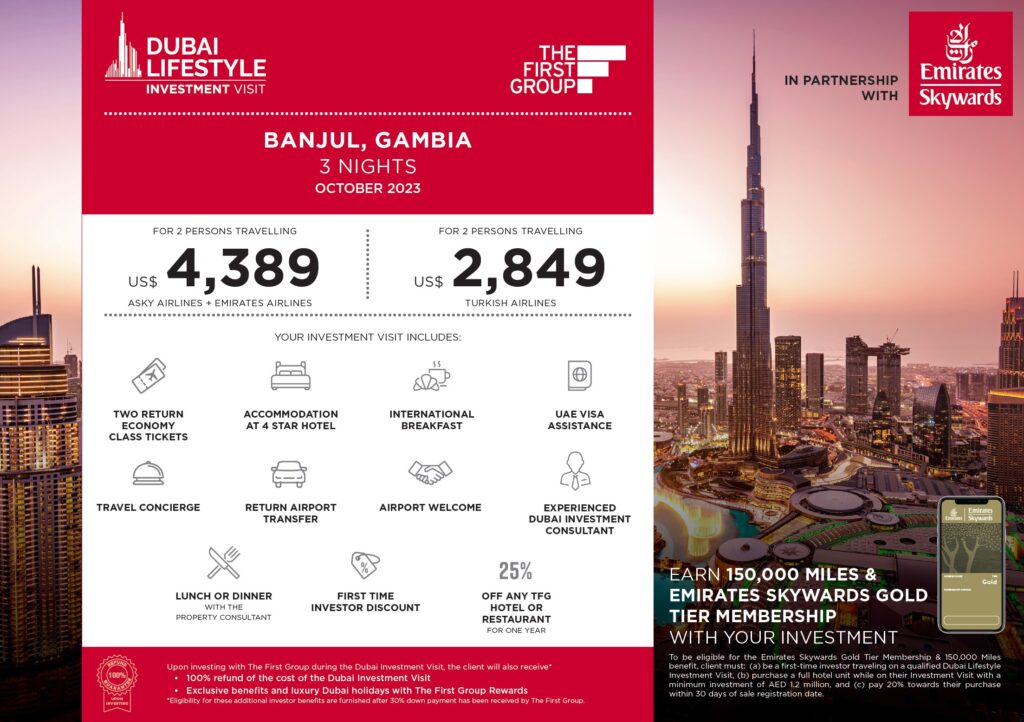 Picture this: The glimmering Burj Khalifa towering above, reflecting the promise of lucrative returns, juxtaposed with the intricate winding alleys of the souks, hinting at the rich tapestry of opportunities. This city is more than just a travel destination; it's a beacon for investors seeking outstanding ROI.
The call from Banjul to Dubai resonates strongly. In a recent interview, MUSTAPHA NJIE, the MD/CEO of Taf Africa Global, a leading pan-African real estate firm, emphasized the potential of foreign investments in The Gambia to elevate it to the ranks of Dubai and Singapore in West Africa[1].
Why not reverse the dynamics? As Gambians, we can be the catalysts for growth in Dubai's real estate market. A win-win for both nations. Remember, when one door closes in The Gambia, a majestic gate might just open in Dubai. So, are you ready to take the leap?
SPECIAL OFFER DETAILS: "DUBAI LIFESTYLE INVESTMENT VISIT"
"BANJUL, GAMBIA 3 NIGHTS OCTOBER 2023"
"FOR 2 PERSONS TRAVELLING 4,389 US$ ASKY AIRLINES + EMIRATES AIRLINES"
"FOR 2 PERSONS TRAVELLING 2,849 US$ TURKISH AIRLINES"
"YOUR INVESTMENT VISIT INCLUDES:"
"TWO RETURN ECONOMY CLASS TICKETS"
"ACCOMMODATION AT 4 STAR HOTEL"
"INTERNATIONAL BREAKFAST"
"UAE VISA ASSISTANCE"
"TRAVEL CONCIERGE"
"RETURN AIRPORT TRANSFER"
"AIRPORT WELCOME"
"EXPERIENCED DUBAI INVESTMENT CONSULTANT"
"LUNCH OR DINNER WITH THE PROPERTY CONSULTANT"
"FIRST TIME INVESTOR DISCOUNT"
"25% OFF ANY TFG HOTEL OR RESTAURANT FOR ONE YEAR"
"EARN 150,000 MILES & EMIRATES SKYWARDS GOLD TIER MEMBERSHIP WITH YOUR INVESTMENT"

"To be eligible for the Emirates Skywards Gold Tier Membership & 150,000 Miles benefit, the client must: (a) be a first-time investor travelling on a qualified Dubai Lifestyle Investment Visit, (b) purchase a full hotel unit while on their Investment Visit with a minimum investment of AED 1.2 million, and (c) pay 20% towards their purchase within 30 days of sale registration date."
"Upon investing with The First Group during the Dubai Investment Visit, the client will also receive:"
"100% refund of the cost of the Dubai Investment Visit"
"Exclusive benefits and luxury Dubai holidays with The First Group Rewards"
"Eligibility for these additional investor benefits is furnished after a 50% down payment has been received by The First Group."
This offer is presented to you by GamRealty in collaboration with The First Group: Dubai Property Investments. The First Group is Dubai's leading real estate developer and property investment company.
Contact form – Special Offer Dubai Investment Opportunity